Failing your practical test can be incredibly disheartening, and it can often be tricky to pluck up the courage to book another test. However, this doesn't have to be the case; we've devised a list of helpful tips, pieced of advice and words of encouragement to overcome a failed practical driving test.
Tips For Dealing With A Failed Practical Driving Test
Everyone is different, and what some people may pass with flying colours, others will take more than one attempt to get the hang of; this also applies to your driving test. Over 800,000 learners take their practical test every single year here in the UK, but this doesn't necessarily mean that everyone passes, so do not think you're alone if, unfortunately, you fail. Instead, think positive and utilise every resource you can, start by taking a read of our top tips!
1. Understand Where You Went Wrong
We understand that the moment you have been told that you have failed, the last thing you want to do is spend any more time with your examiner than you need to, but it's so important to stick around a little longer, so you can find out where you went wrong. Stay composed and hear your instructor out, they are the one and only person who knows exactly why you failed and where you may need to improve.
Some leaners fail due to a situation unravelling that they are not too sure how to deal with, panic and then the examiner needs to take control. If this is the case, your examiner will be able to explain to you how to overcome tricky situations in the future. On the other hand, others fail due to repeated issues that the examiner has picked up on, for example, lack of observation or pulling out at junctions. Understanding these issues will help you to structure your lessons from now on. For more information on the most common driving test errors, take a look at our previous article.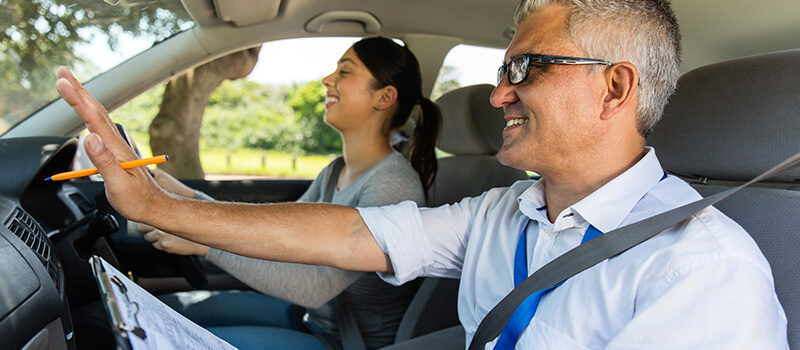 2. Jump Straight Back Into Lessons
The worst thing you can possibly do after failing a test is to put off driving lessons and take a long break from driving. We can guarantee that the longer you leave lessons, the harder it will be to get back into the swing of things. Those small issues that can be nailed within just a few lessons will become bigger and bigger the longer you put off lessons.
It is more than likely that your driving instructor would have taken you to your test and will then be dropping you back home after. Aim to book your next driving lesson on the way home. It is okay to take a few days off to relax, but we suggest leaving it no longer than a week before you take on your next lesson.
3. Make A Plan With Your Instructor
Now, this is when that initial chat with your examiner will come in handy. During the first lesson after your test, explain to your instructor what happened during your test and the particular points that the examiner highlighted. You are not the first pupil of your instructor that has failed, and you most certainly won't be the last, so they'll be able to make suggestions on how to overcome any issues.
If you feel like you need to let out some steam and rant about how horrible your examiner was or how rubbish your test was, then do it during this time. Talk about what you struggled with, and then your instructor can take this information along with the examiner's advice to create a tailored plan of action.
You may benefit from booking additional or longer lessons in the first few weeks after your first test. One hour lessons are great, but they go quicker than you'd expect, so to ensure that you can be as productive as possible and finally put those niggling issues to bed, a two-hour lesson would work to your advantage.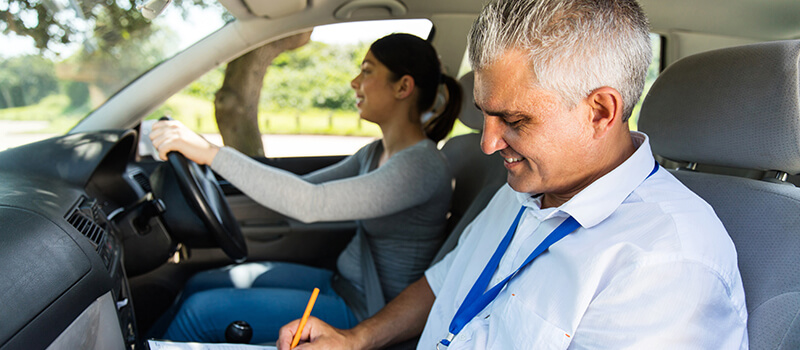 4. Rebuild Your Confidence
Use lessons from now on to rebuild your confidence, don't dwell on the fact that you failed and focus on your strengths. Your instructor would not have allowed you to book your first test if they believed that you were incapable of driving or were unsafe on the roads. Stay positive and keep practising.
5. Think Of Your First Test As Practice
One of the biggest causes of nerves during your first driving test is the fear of the unknown, however, taking your second test means you know exactly what to expect. You would have experienced every aspect of a driving test, so can focus on showing your examiner your driving skills instead of worrying about what you may have to do next.
6. Rebook Your Test
Spend some time thinking about when you may like to retake your test. Some learners want to soonest date they can get their hands on, and others would prefer to give themselves some extra time, only you know when is best for you.
Due to the high demand for driving tests, you often have to wait a month or so to book a second test; it's unlikely that you will get one for a few weeks time. Second tests are booked the same as the first on the GOV.UK website and you will have to repay the £62 fee.
Once your test is booked, you will have something to work towards. Remember if your test approaches and you do not feel prepared or would like extra time, you can change your test date up to six times.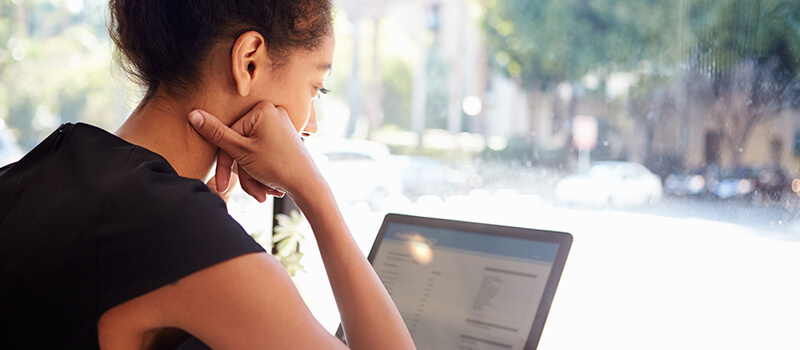 7. Keep An Eye Out For Cancellations
For those who failed their test due to a 'wrong place, wrong time' situation and are eager to get a second test booked as soon as possible, its always recommended to keep an eye out for cancellations.
Unfortunately, you cannot set up an alert to be notified each time a driving test cancellation comes up; you'll just have to keep an eye out each day. Cancellations work on a first come, first serve basis and will be available to book for those who spot it the quickest.
Here at our driving school in Luton, our Drive247 booking co-ordinators are able to take the stress of waiting for cancellations away through our early test service. Let us know when your ideal test date is and they will keep an eye out for earlier tests on your behalf.
Pass Your Practical Test!
One of the most useful pieces of advice you can be given as a learner taking a second test is never to stop practising. Use every lesson to your advantage and focus on areas you are struggling with. There is no need to dread taking another driving test; you will pass!