Unless you're lucky enough to be gifted your first car or have enough money to splash out on a more modern model, it's unlikely that your first car is going to be filled with the latest technology. The majority of new drivers opt for a simple, reliable and small vehicle that can get them from A to B and tie them over for their first few years of being on the roads independently. It is considerably easier to build confidence in a basic manual vehicle before moving onto a model that is more complex.
However, just because your car may be a little older and isn't filled with technology that can do just about everything for you, it doesn't mean that you can't enjoy cool gadgets. There are many different must have car gadgets that you can use to modernise your vehicle without having to spend a fortune.
The Best Must Have Car Gadgets
After all of your hard work and patience, there is nothing better than finally getting your licence and first car. Shopping around for accessories and handy gadgets to fill your car with can be so much fun and allows you to personalise your car to your style.
If you've recently passed and are looking for some inspiration on what gadgets to research, we've devised a list of our top ten, so keep reading!
1. USB Car Charger
There is nothing worse than a low battery, especially when you're hoping to use your mobile phone to stream your favourite playlist while driving, or are relying on a sat nav to set you to your destination. Thankfully, this problem can easily be avoided by investing in a USB car charger – one of the most popular car gadgets.
All cars, both old and new, come equipped with a small circular cigarette lighter or accessory port which also acts as a USB socket. In most cars nowadays, it's unlikely that there will be a cigarette lighter in the port which means that you now have an empty, unused USB port, so use it to your advantage. USB Car Chargers are a small device that can be plugged into the port, fitted with various different features and can charge your phone while you're on the road. Although it will take a little longer for your mobile phone, iPod or any other device to charge than it would do so from mains electricity, it will give you sufficient battery life to keep you going.
2. DAB Converter
If you are an owner of a very old vehicle that is lacking a choice in radio stations and appears to have poor sound, then you may want to consider a DAB Converter.
Radio stations such as Radio 2, Heart and Capital FM can all be played through an FM radio, however, if you want a wider choice than you will need to convert over to DAB digital radio. A DAB Converter is super easy to install and can be plugged in using either your FM radio or an auxiliary port and allows your current radio to tune into all DAB frequencies. It will also help to encourage a better quality of sound, and you'll no longer have to worry about that annoying fussy noise.
3. Mobile Phone Holder
We are all aware of the laws regarding using your mobile phone while driving, yet still, year on year, drivers are caught using their phone while behind the wheel and risking a collision. If caught committing this offence, you will be faced with a minimum of a £200 fine and 6 points on your licence.
One of the best ways to ensure that you remain within the law is to fit a mobile phone holder. Although your phone must be in a fixed position while driving and not touched, you can still use tools such as your navigation if your phone is placed on a mobile phone holder.
Due to the popularity of mobile phone holders, it means that there are tonnes of different types to choose from. Some mounted holders fit onto your windscreen and others that can grip onto your dashboard.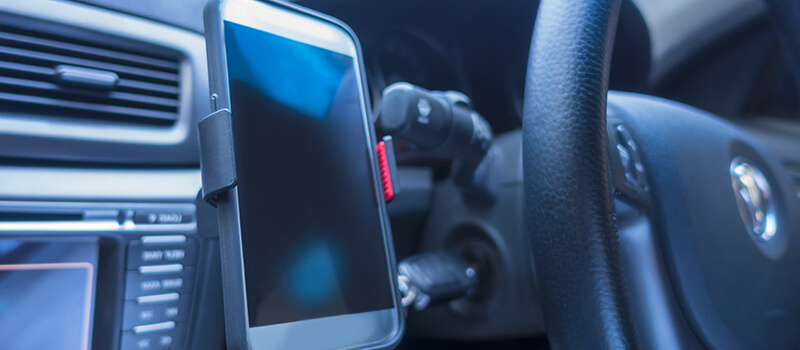 4. Dash Cam
A dash cam is less of a fun gadget and more one to cover your back in the case of an emergency. They are fitted to the top of your windscreen, sometimes also the rear, and continuously record footage while you drive. Many also come equipped with a GPS system which is capable of recording your location and speed.
Dash cams have become one of the most effective pieces of evidence when fighting a case against insurance providers trying to make a claim against you. Unfortunately, as a first-time driver, many insurance providers are going to be working against you, rather than with you, so it's better to be safe than sorry. It avoids the incredibly frustrating situation of a false claim. Along with heightened protection, dash cams can also work towards decreasing your insurance premiums, again a common issue for a young driver.
If you're considering purchasing a dash cam, but not too sure which ones to go for, take a look at this handy Digital Camera World article!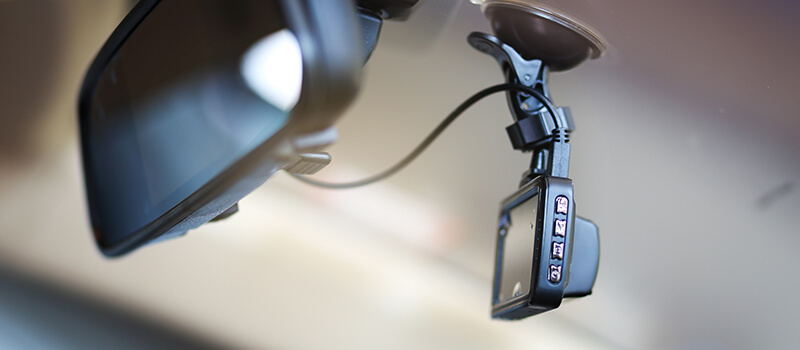 5. Portable Heads-Up Display
Tonnes of new vehicles come equipped with a head-up display, which can come in a lot more useful than you would have first expected. Heads-up displays allow drivers to see important information such as the speed limit and GPS navigation without having to look away from the road in front of them. A transparent digital image is projected onto to the windscreen in front of the steering wheel allowing the driver to clearly see their chosen details without being distracted nor lose focus.
Hudly specialises in portable heads-up displays, including wireless options along with a smaller, lighter version which can be used when travelling.
6. Car Back Seat Organiser
Are you a long distance driver who fills their car with anything from snacks to emergency break down essentials? Or are you a parent who is fed up of your vehicle being filled with toys and clutter? If so, you will love a car back seat organiser!
This simple addition to your car can make a world of difference and will significantly help towards keeping your car neat and tidy. There are many different car back seat organisers set out with different sized compartments suited to your requirements. You will even be able to find options that are able of holding an iPad or tablet, great for keeping kids entertained during long journeys.
7. Portable Jump Starter
You never know when your car battery may go flat, which means that you cannot guarantee that there will be another driver nearby to help you out. Portable jump starter kits are great to have in your car in the case of an emergency, and while they may be a little costly, you will thank yourself if you ever do end up with a flat battery.
A portable jump starter kit allows you to jump-start your vehicle temporarily without the need for a second car for power. Your kit will come with everything required to carry out the task including alligator clips.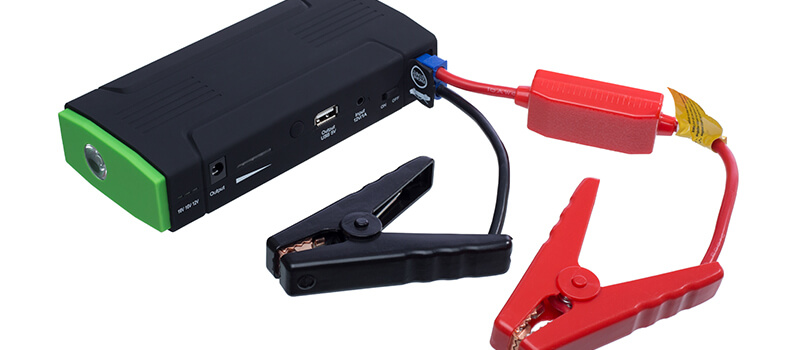 8. Drop Stop
A drop stop is one of those gadgets that you never knew you needed until you read up about it and although it is such a simple idea, is ever so clever!
Every vehicle comes alongside a gap between the centre console and the edge of the seat, which makes it the biggest culprit for lost and fallen objects. There is nothing worse than your keys, bank card or even phone falling while driving and rolling around the floor; not only is it distracting, but also incredibly dangerous if objects become wedged under pedals.
Drop Stops are made from a patent material and wedges in the gap between the centre console and passengers or driver's seat. They are incredibly flexible, which means they follow the 'one size fits all' rules and are available in a universal black colour, which makes them blend seamlessly into the vehicle's interior.
9. Bluetooth Kit
It can often become annoying driving a car that is filled with wires such as aux cables, especially when they all become tangled, which is where a Bluetooth Kit comes in handy.
A Bluetooth Kit allows you to modernise your vehicle and begin to play music or take calls through a hands-free device connected through your speakers. You will no longer have to worry about wired connections, only a small, discrete Bluetooth device that will be fitted on your dashboard. The only downside to a Bluetooth Kit is that it will require little initial DIY skills to fit the device, but there will be instructions with your kit of choice which will make this an easy task.
10. Tile-Mate
The Tile-Mate is a must have gadget if you are guilty of regularly losing your keys and are worried that you'll end up leaving your car keys somewhere that you probably shouldn't. Made to work the same as a Bluetooth tracker, the small, lightweight Tile Mate connects to your car keys, just like a keyring and allows you always to keep track of where they were last located. You will have to download an app, which allows you to set up tracking of your keys, so if you do lose them, all you'll need to do is go onto your app, and GPS tracking will show you their exact location. Cleverly, you can even choose to 'call' your keys, and they will start ringing!
Modernise Your Car With Must-Have Gadgets
Filling your car with handy gadgets that'll make driving easier is a lot of fun and is an excellent way of modernising your vehicle without having to spend a fortune on modifications. We always recommend to our pupils that are taking driving lessons in Luton, that if you do use gadgets, make sure that they are hidden away in your glove compartment or boot when you are leaving your vehicle unmanned for a long period of time – you don't want to attract any thieves!
We hope that our article has helped to give you some inspiration on just some of the many great gadgets available for your car; if it was, then why not share on social media?